The Skilling: A National Imperative survey of employers found business links with universities had grown for work placements, research partnerships and project work since the last survey in 2016.
Universities Australia Chief Executive Catriona Jackson said this was a terrific sign that efforts by universities to 'reach out'to business – and vice versa – were fostering closer collaboration.
"There is such a strong business case for the private sector to tap into the talent and expertise inside our world-class university system on everything from research to recruitment," she said.
"These sorts of close partnerships between businesses and universities not only boost profitability for companies, they also help us to grow the national economy."
Earlier this year, Universities Australia launched Clever Collaborations – a publication that showcased the range and value of partnerships between universities and businesses.
The publication is also a handy one-stop guide to help firms find the best person at each university to contact to start a conversation about possible new collaborations.This year's Ai Group survey found the most important forms of support to link firms to universities were being able to see examples of student activities that could assist the business, having a clear point of contact at a local university, and information on supervising and mentoring students.
Since 2014, university and business links have increased from 29 to 41 per cent.
The Ai Group survey also found four in ten employers – 38 per cent – planned to increase or establish new links with universities.
It says "industry links to the education sectors are a critical factor in industry competitiveness".
"We also note that employer satisfaction levels were highest for university graduates – which is in line with other national data on supervisor satisfaction with new graduates," Ms Jackson said.
The Ai Group report also notes the graduate jobs picture continues to strengthen, consistent with a modest improvement in the overall labour market over the same period.

TYPES OF LINKS WITH UNIVERSITIES OVER THE PAST 12 MONTHS: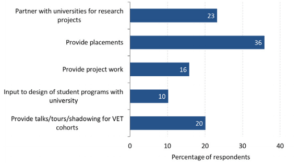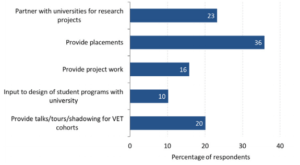 Graphics: Ai Group, Skilling: A National Imperative, 2018, p 28.