International education remains Australia's third largest export – just behind iron ore and coal.
New data released by the Australian Bureau of Statistics confirms that universities and other tertiary institutions generated $13.7 billion of that income in 2015/16.
International education supports more than 130,700 Australian jobs and sustains Australian living standards.
"Not only is international education a core component of Australia's economy, it contributes profoundly to Australia's relationships with the world," said Universities Australia Chief Executive Belinda Robinson.
"Australia is a destination of choice for international students because of the quality of the world-class education on offer here, the outstanding student experience and our rich cultural diversity.  From great brains to great beaches, Australia has it all," Ms Robinson said.
"Over the past 50 years, Australian universities have been the vanguard of Australia's engagement with our region. The people-to-people links forged through international education create the country-to-country ties that help us all to prosper."
"Through the exchange of students on a grand scale, we're forging relationships that underpin our future diplomacy, trade, business links, cultural insight, and personal connections."
More than 320,000 students from 130 countries are currently studying in Australia's universities.
The new data comes ahead of the first meeting next Wednesday of the Turnbull Government's Council for International Education, chaired by Education Minister Simon Birmingham.
Ms Robinson represents the sector on the council, which will help to strengthen Australia's enviable reputation as a leading provider of international education.
Previous data has shown the enormous contribution that international students make to the economy and jobs in every Australian State and Territory.
Contribution of international education to employment and state/territory income, 2014-15
State or Territory Full Time Equivalent (FTE) jobs Proportion of State employment Economic contribution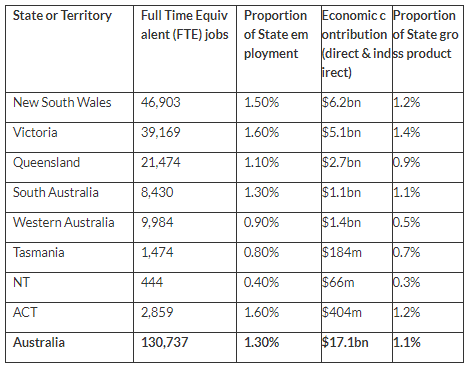 Source: Deloitte Access Economics. Note: These figures include the contribution associated with visiting friends and relatives. After accounting for the fact that some inputs to the goods and services consumed by international students and their visitors are imported, international education was estimated to contribute $17.1 billion to Australia's GDP in 2014-15. 
Deloitte has estimated the spillover benefits to regional economies of international students studying in capital cities.
For example, expenditure by international students in Melbourne contributed $888 million in indirect value added in regional Victoria and supported 5,478 regional Victorian jobs.
International students also make a significant direct contribution to many regional communities, with at least 5% of international students living and studying in regional areas.
The ABS data can be found here: International Trade: Supplementary Information, Financial Year 2015-16